Hello. I'm Ietore(@ietore.jp).I'm a father of three (40s).
Three years ago, I invested JPY 190,000 in cost to build a home gym in my rental apartment.
Today I'm going to explain the cost breakdown and benefits of a home gym.

Many gyms have refrained from operating due to the world's response to the new coronavirus.
Many health-conscious people who have been going to the gym on a regular basis are buying power racks, benches, and barbells for their homes and rental apartments and starting to create their own home gyms, because they just can't stand not having a gym.
I was hospitalized with a hernia in Yamagata, Japan, where I was working alone, which led me to create a simple home gym with a little more equipment since May 2017, three years ago. I've been skipping workouts, so physical results are lacking (laughs).
But still, after three full years, I think I'm very happy with my home gym.
Most importantly, if you're an amateur like me, I feel the biggest advantage of creating a home gym is that you can continue to train at your own pace without worrying about money.

Other benefits we feel include saving time traveling to and from the gym, not having to worry about waiting to use equipment in the gym, and being more hygienic and acceptable.
In this article, we'll tell you what we've evaluated and thought about implementing a home gym, with a focus on cost. I hope that by explaining the cost and the set of concerns I have after the implementation, I can push those who are hesitant and have not taken the plunge into home gym implementation (smile).
1.The initial cost of installing a home gym is approximately ¥190,000

I'm an office worker who is new to training. I don't plan to compete in bodybuilding competitions and I'm not aiming to reach 160kg on the bench press, so I bought a power rack set (Irotech Muscular Set R140) to start with, as I thought it would be good if I could do some training at home.

This Muscular Set R140 from Irotech came as a set of power rack, barbell shaft, bench and 140kg of weights, and I remember being very happy to be able to train right away after assembling it.
As a beginner muscle builder at heart, it felt like a home gym to me, and I'd give it a perfect score of 100.

In fact, I built my first home gym in Yamagata Prefecture, where I moved to work by myself.
Because the town faced the Sea of Japan, the wind was unusually strong, not to mention the snowfall, so I couldn't run or walk during the winter months.
As a result, half a year after purchasing the Power Rack, I bought a spin bike as an additional "aerobic" exercise device for the winter when I couldn't go out in autumn.

Later on, I bought a dumbbell set as a way to add more weights because I found it cumbersome to replace the weights (weight plates) that were included in the power rack set alone when I was doing various exercises.

As a result, the initial installation cost was about ¥130,000 for the purchase of a power rack set, joint mat, and push-up bar, which I came up with in May 2017.
About ¥40,000 for the spin bike and related equipment.
About ¥20,000 for the added dumbbells.
In total, I invested just under ¥190,000 as the initial cost for the home gym.
Related Post  Irotech Muscular Set R140 (Power Rack) is a great choice for your home gym!
Related Post  Home Gym Aerobic Exercises Cardio Spin Bike (Irotech SS130)
2.I'm very happy with my home gym.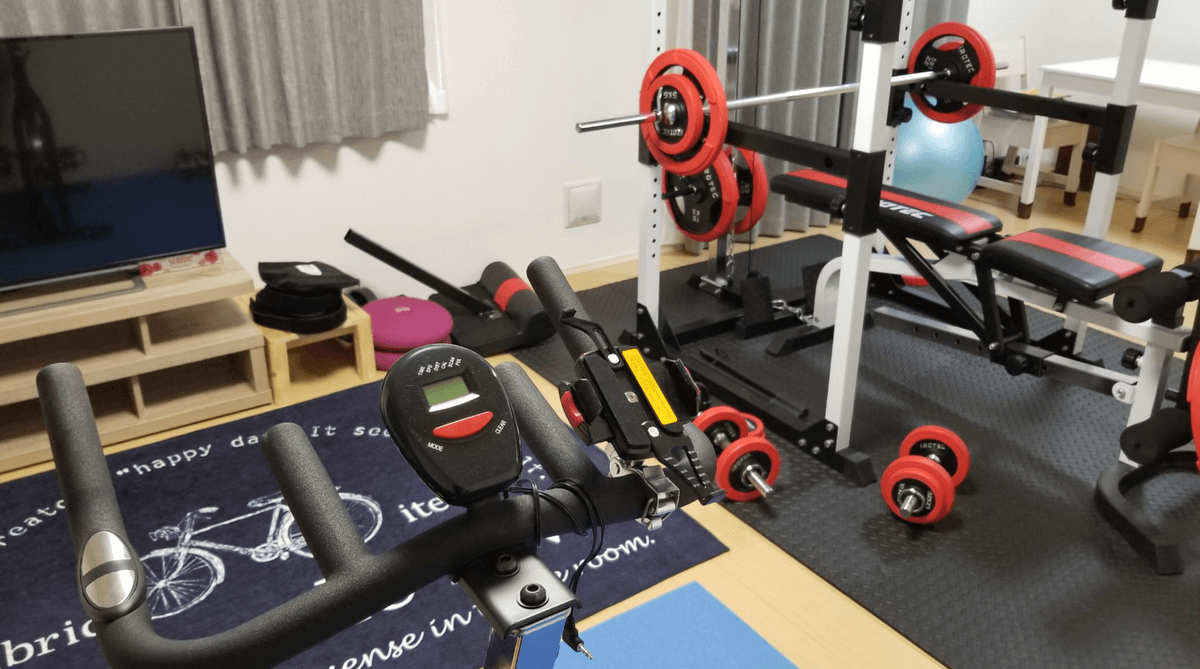 When I bought the Irotech power rack set (R140) with a home gym without telling my wife, I thought "I spent ¥120,000 on a power rack" because it looked so big.
But after three years, the monthly cost has come down to about ¥5,600* per month.
Compared to my gym fees, I wonder if I got my money's worth. I think. (*Power rack, spin bike, and a complete set of other things)

I believe that more and more people will be working from home instead of going to the office, as telework will become a mainstream way of working.
I believe that Japanese people's sense of values will change and the common sense that weight training is something you do at the gym will change.
In other words, as my blog title suggests, I think we will see a time when people will be able to say, "Home gyms are meant to be done at home.
3.What to do when you stop using your home gym

Here's an important story. You may be tempted to buy power racks, benches, dumbbells, spin bikes, etc. to build a home gym, but you may think, "What will I do when I'm done with my own workout?" or "If it doesn't last long, the disposal costs will be too high.
Certainly 10 years ago, I could understand that concern.
But nowadays, mercari is at its peak. In the case of my masculine set on mercari, if you look up "power rack" and "Irotech" as keywords, you will find a lot of results.

Conscientious people sell them for ¥39,000, but some fierce people sell them for ¥105,000. As mentioned above, the cost per month is very small if you hold it for three years, but if you consider that you can sell it at the end of the year, the monthly equivalent cost will be much smaller. Honestly, I'm not sure if paying a monthly membership to a gym is a "waste of time".
Tips for Selling a Power Rack
When you list an item on mercari, please be sure to write "pick it up at my home" in the body of the auction and select "

cash on delivery

". We don't actually use cash on delivery, but if you choose to pay for shipping on delivery, the seller will have to pay for the shipping if you win the auction without reading the notice "who will come to pick it up".
The set of power racks arrived divided into 13 boxes in cardboard form, so it should be a pretty big shipping burden (laughs).
We have sold two

children's bicycles

on mercari in the past for "those who come to pick them up only". We sold them both for 1,000 yen, and both bikes were found by buyers

within 5 minutes of being listed

. Seriously, mercari is amazing.
4.Home gyms cost more initially, but enjoy muscle building at your own pace!

Thank you for staying with me until the end.
Today I wrote an article called "JPY 190,000 for the initial installation of a home gym".
The photo in this article shows a picture of the living room (15 tatami mats) of my apartment when I was working alone, but you can also install a power rack in a 4.5 or 6 tatami room.
Power Rack, a difference in size between 4.5 mats and 6 mats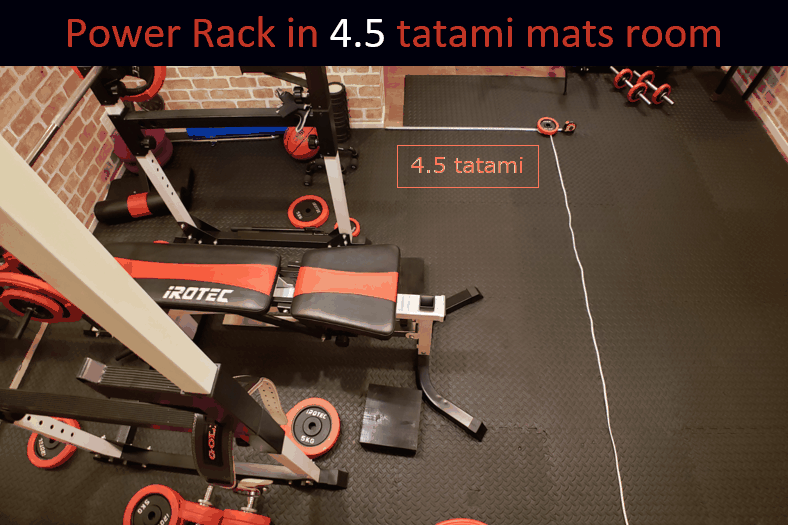 It's the difference between 4.5 mats and 6 mats, and even at 4.5 mats you can install a power rack, including the use of an incline bench!Related Post   Home Gym Layout, 4.5-tatami mat and 6-tatami mat installation
In addition to this article, I've written individual articles on what you can do with the Power Rack Set (R140), Spin Bike (SS130), and Home Gym Floors (Joint Mats) that I hope you find helpful in creating your home gym.