Hello. I'm Ietore(@ietore.jp).I'm a father of three (40s).
I started trying to lose weight in late June 2018 by starting a cardio workout with a combination of 2-3 hours of walking and 60 minutes of spin biking, and pretty much, I've lost weight!
The nice thing about the spin bike is that it's very quiet and you can pedal as much as you want in your apartment, early in the morning or late at night !

Twenty-two years into my career, and for the first time in my 44 years, I am succeeding in losing weight. This is because the following virtuous cycle has begun to occur.
Continue walking" ⇒ "I got my strength" ⇒ "I can walk for an hour or two" ⇒ "I got even stronger" ⇒ "I can pedal a spin bike for 60 minutes instead of five minutes" ⇒ "I got more strength" ⇒ "I lost weight" ⇒ "My wife and kids are happy that I've lost weight and become cool. Ta' => 'Maintain motivation to continue' => 'No rebound! And so on.
I've been using my spin bike, the Airotech Sport Spin SS130, for three years (updated April 2020).
I'm going to explain the differences between the "Aerobike" and "Sport Spin," as well as the "sound and vibration," "durability," "ride quality," "footprint," and "product characteristics notes.
1.The reason for buying a spin bike is diet.

I bought a spin bike because I wanted to get out of my sloppy shape.
I purchased the Muscular Set R140, an Irotech strength "home gym set" that I purchased after a herniation attack in May 2017, and two months after I bought it (in July) I was hospitalized for four days with a herniated lumbar disc, and I haven't been able to get out of it since.
I was struggling with the level of walking and bending over to get in the car, so I was no longer able to train physically or mentally.
I had a herniated lumbar disc and decided to lose weight because I thought my 90 kg body (181 cm tall) was too much pressure on my back.
However, my back hurts and I can't walk easily, so I decided to buy a "spin bike" to get some aerobic exercise in the house.
Feelings after being hospitalized for a hernia attack
The pain of a hernia is intense. So right after I left the hospital, I was too scared to go outside in a place that wasn't popular, in case I got stuck.
I was in excruciating pain just sitting in the chair, and I was very much not anywhere to walk.
2.Buy a spin bike SS130! (IROTECH)

I was determined to lose weight, so I bought the Irotech Sport Spin SS130, which would look great in my living room, which is becoming a home gym.
The meaning of the SS130 is that the flywheel (spin part) weighs 13kg.
There is a higher-end model, the RS220 racing spinner with a 22kg flywheel weight for people who do serious training, but the manufacturer says on their website that the RS220 is "not recommended for high-intensity training as the flywheel is heavy (22kg) and not suitable for beginners or those who are not strong enough".
Therefore, I think most people will be satisfied with the Sport Spin SS130.
3.The difference between a spin bike and an aerobike. Why I bought a spin bike.
Now, here's a quick summary of the differences between a spin bike and an aerobike.
【Spin bike (Pros)】
High load training (due to the heavy flywheel and frictional load adjustment)
You can train for longer periods of time (aerobikes are generally limited to 30 minutes of use. Spin bikes can be used for as long as you are fit).
You can train as if you were driving on the road with its high rigidity.
【Spin bike (cons)】
Heavier weight (which makes it more rigid and allows for high-impact training)
The load cannot be measured (due to the friction method. However, this should not be a problem.
【Aerobike (Pros)】
Quiet (because there are no contact parts. Electromagnets create the load)
Light and compact
Load can be displayed digitally.
【Aerobike (Cons)】
Continuous use is about 30 minutes (electromagnets generate heat because they are loaded)
I can't put a high load on it.
It's not a good workout.
4.Assembly time for the "Sport Spin SS130" spin bike is 20 minutes

I bought my first training spin bike in my life!
Irotech's Muscular Set R140, a power rack set, took me 4 hours alone to assemble as I had to install all the parts.
The Sport Spin SS130 had the belts and flywheel already installed in the frame, so it only took one person 20 minutes to assemble it.
Assembly of the Sport Spin SS130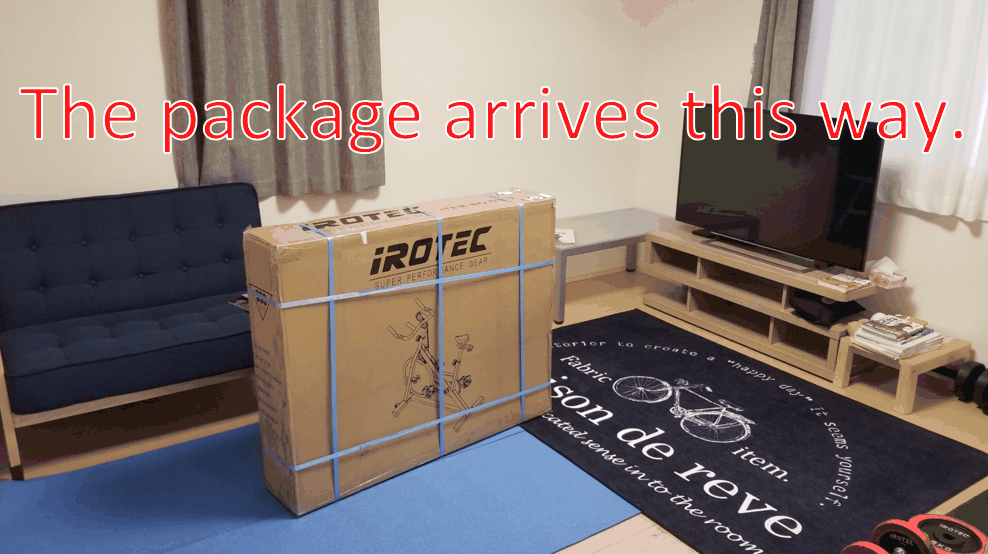 5.Size of the Spin Bike SS130 and installation area required

As I found out when I bought it, the spin bike takes up very little space to set up.
The main body of the spin bike is 50cm wide x 110cm long.
The spin bike is used by laying down mats to avoid scratching the floor.
I put the spin bike on two joint mats of 60cm each connected together.
6.Even if your house is small, you can still get a cardio workout on a spin bike if you're motivated.
I put the spin bike in the kitchen so that you can imagine that you can put it anywhere (lol).
The point is, you don't have to worry about where to put it, and then you can say, "Buy it and train it! Get a cardio workout and lose weight! It's just a matter of the motivation you have with.

7.The spin bike SS130 is very quiet in operation. No problem at all in a thin walled apartment.

I bought my spin bike when I was living in my apartment.
Therefore, before I bought the bike, I was worried about the noise it would make during training, but my fears were unfounded. I read that "the spin bike is very quiet, almost no noise. I think it's fair to say that spin bikes are very quiet and make almost no noise. I think it's so loud.
Probably the sound of water boiling in an electric kettle is louder. Of course, the sound of TV is louder than the sound of a spin bike.
We took a video for your reference, so please listen to it.
【↓Youtube↓】
8.Four recommendations for using the Irotech Spin Bike SS130 comfortably

I'm very happy with the SS130, but here are four items you can buy along with it to make it more comfortable to use. The saddle cover is a must-have.
1) Equipment for comfortable use of the spin bike (1) Saddle cover

The Irotech Spin Bike SS130 is a stylish black and white saddle, but it's very stiff, as the word-of-mouth reviews suggest.
I didn't buy it with it because I didn't want to waste my money, but after 5 minutes of pedaling, I regretted it because I thought my butt was too sore to do it.
I immediately bought the saddle cover, which was recommended for purchase as a set on Amazon. The result was a great decision, I can ride my bike for an hour with the saddle covers on and I highly recommend you buy the saddle covers at the same time when you buy the SS130.
2) Equipment for comfortable use of the spin bike② Cell phone holder

One of the biggest advantages of cycling at your home gym (home) instead of riding your bike outside is that you can train while playing with your phone. It's not that hard to train while surfing the web on your phone or listening to music on Youtube.
However, as SS130 does not come with a cell phone holder, you need to purchase and install a cell phone holder by yourself.
There is also the issue of the diameter of the handlebars, so if you are unsure about this, I suggest you buy the exact same one I am buying.
3) Equipment for comfortable use of the spin bike (3) Joint mat

I use my spin bike on the flooring in my apartment (living room) where I live alone, and the SS130 is quite heavy (about 36kg) due to its 13kg flywheel, so the mat is necessary to protect the flooring.
When I moved the spin bike to the side after 18 months of use, I found that the joint mat I bought had dented the mat quite a bit, but the floor surface remained clean. I don't think I will get any complaints from the landlord when I move out.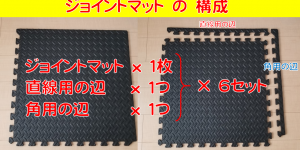 Hello. I'm Ietore (@ietore.jp). If you want to build a home gym for a muscle building in your home, you will have to put joint mats (EVA) on

4)Equipment for comfortable use of the spin bike (4) Water bottle (racing bottle)

One of the best features of a spin bike is that you can get sweaty after just 10 minutes of pedaling, so hydration is a must during training.
The SS130 comes pre-installed with a steel holder to set up your water bottle! Thus, when you buy yourself a good sized, cool colored bottle, and you're sweating and hydrating, you'll feel like a road racer yourself and you'll be fired up!
By the way, I use the 550ml size for my bottles.
9.Is Irotech's spin bike discontinued ?

As explained above, I got my power rack set and spin bike from Irotech.
However, as far as I can tell, the spin bike I used is no longer available.
However, as you may have noticed, a spin bike with 13 kg of wheel weight for serious training is pretty much the same design.
As for alternative 1, as far as I've been able to find, the one that looks very similar to the Irotech spin bike is the BK-SPN13 bike from Leading Edge.
It comes with a 1 year warranty and is better than the Irotech in that it has "handlebars that can be moved back and forth" and a heart rate monitor as standard.
If you're looking for a spin bike, it's made by Leading Edge, which is a good choice.
As for alternative 2, I actually couldn't find an Irotech spin bike even when I had a spin bike placed at my workplace as a benefit, so I bought an Alinco spin bike (which also weighs 13kg wheels). To be honest, the feel of the bike was almost identical to the Irotech.
7.Conclusion

Today I'm pleased to introduce you to the SS130, a spin bike that I'm gunning to use to achieve a 12% body fat percentage. Now that I'm on my own, it's time to improve my back pain, lose weight, increase my strength, and improve my hunchback!
---