Hello. I'm Ietore(@ietore.jp).I'm a father of three (40s).
We have an Irotech power rack (Muscular Set R140) in our 10 tatami room. We also have a spin bike and rowing ergometer (rowing) in the empty space, but the power rack is still the home gym.

I think there are many people who are hesitant to purchase this power rack because they cannot imagine how it would look in a 4.5 tatami mat room or 6 tatami mat room.
So, I made a mock-up of the power racks in our training room, where we moved the equipment to clean up the room.
Power Rack, a difference in size between 4.5 mats and 6 mats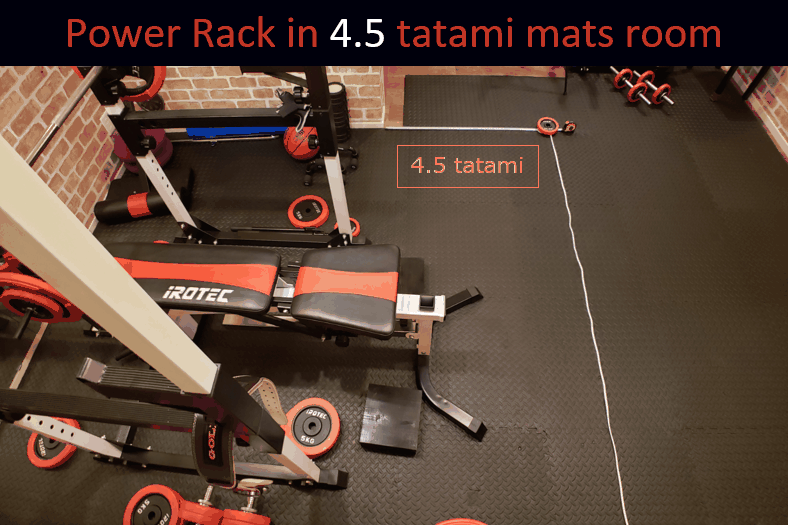 The difference between 4.5 mats and 6 mats, including the use of an incline bench, is the difference between 4.5 mats and 6 mats. Details are explained in the article on this page.
1.Home gym. 4.5-tatami mat and 6-tatami mat room sizes

I drew a 4.5 mat line (yellow) and a 6 mat line (white) in our home gym.
Don't worry, the power racks are the same as the standard width of 4.5 tatami mats and 6 tatami mats, which is 273cm. For your reference, here's a description of the area to be photographed (in the photo, the area at the back of the room is the basement at an angle).

In the next section, I will explain the size (usability) of the room in the cases of 4.5 mats and 6 mats, moving the spin bike and incline benches around.
【Room size】
This is a general room size. The size varies from area to area, so if you're considering a home gym, I recommend measuring the room, just to be sure.
4.5 tatami mats  Length 270㎝xWidth 270㎝
6.0 tatami mats  Length 360㎝xWidth 270㎝
2.Home gym. 6-mat layout (power rack, incline bench, etc.)
1)Overall home gym layout (power rack, incline bench, spin bike, TV)

First of all, here's an overall picture of the power rack in a six-mat room.
The incline bench is set out of the power rack with the assumption that you will be doing squats in the rack.
The spin bike is placed by the wall of the 6-mat room.
You only need two joint mats (120cm long and 60cm wide) to set up the spin bike, and you can place it just against the wall, without having to swing your body from side to side when you are using it.
The TV is 50 inches long. If it is attached to the ceiling, a TV stand is unnecessary, but I don't have the energy to put it on the ceiling yet, so I use the TV stand that I used when I moved out to work by myself and put it on the wall normally.

2)6-mat home gym equipment arrangement (mainly power rack)

Let's take a look at the layout of a 6-mat home gym from another angle.
I have an image that there is a door to a 6-mat room in front of or to the left of this picture, where you can put a big screen TV and watch a video on Youtube while you train.
Of course, you can also listen to your favorite music while you train.
You can take all the intervals you want, and no one will complain if you monopolize the power rack for three hours. It's truly a room with all the benefits of a home gym.
3)Home Gym 6-mat layout. Note the plates for rat-pull rowing.

Here's a picture from an angle.
I would like to tell you that in the case of Irotech's Muscular Set R140, the wires, pulleys, plates, etc. for rat pulls and rowing protrude about 40 cm outside the power rack.

I install the wire/pulley side of the power rack a little farther away from the mirror (specifically, 60cm at the wall to rack end).
This may not be a problem in a 6-mat room, but in the case of a 4.5-mat room, this distance should be reduced to the very limit in consideration of putting in and out of the incline bench, which will be described later.
In addition, the plate shown in the photo above is a 15kg plate. If you use a 20kg plate, the diameter of the plate becomes larger, and the distance between the mirror (wall) and the power rack needs to be longer, so be careful.

4)6-mat home gym rowing ergometer added Layout

I made a 6 mat layout to make full use of it.
Actually, I also have a rowing ergometer, so I added a rowing ergometer in the 6 mat layout. Here are the pictures from another angle.

My feeling is that with a six-mat room, you can install not only a power rack and incline bench, but also an aerobic spin bike and a rowing ergometer.

3.Home Gym 4.5 mat power rack layout

Now, the next step is finally the 4.5 mat layout of the power rack.
In conclusion, you can read on without worrying about setting up the power rack and using the incline bench even in 4.5 mats.

If you are doing squatting or rowing exercises inside the power rack, the incline bench should be pulled out as shown in the picture above.
This is not a concern in a 6-mat room, but a typical 4.5-mat room is 270cm x 270cm, which means that the width of the room (270cm) is about the same as the 270cm required to install the power rack and make sure the plates are replaced.
In other words, the only room left for the Incline bench is vertical (also 270 cm, since it is a 4.5-mat room).
In other words, it is important to be able to move the incline bench in and out of the room.

There are two possible bench positions for the incline dumbbell fly (working the upper pectoral muscles), as shown in the pictures above and below.
I personally think the upper (Part 1) is better for me, as it allows me to spread my hands out with more room.

It depends on the placement of the incline bench and the shoulder width and arm length of the person you are training. The model is myself, 181cm tall.
You need to move the incline bench out of the rack, but you need to be careful when you do this or your feet will touch the wall.

In my opinion, if you have a limited space of 4.5 mats as your home gym, you'll be more than happy to buy Irotech's Muscular Set R140, which can do bench presses, squats and deadlifts as well as lat pulls, rows and chinning! .
I consider this a very cost effective and satisfying set of power racks for me as a newbie to strength training (I've never used any other power rack).
Related post  The room size of my home muscle building home gym is 10 tatami mats
Related post  Start small with a 3-tatami mat layout for your home gym
Related post  Irotech Muscular Set R140 (Power Rack) is a great choice for your home gym!
4.Conclusion / I'm writing a home gym blog

Thank you for reading to the end.
Today, we're going to talk about 'Home Gym…you can install power racks even in 4.5 and 6 tatami mats! I wrote an article about this. I hope it will help you all with your home gym production.
If you have any other questions you want to know, please ask them on Twitter where I am muttering. As soon as I become aware, I'll answer them as best I can.
Well, I'm already 46 years old and have gained quite a bit of weight. I don't want to end my life as an "old man with a belly" so I've been running and strength training since April 2020.
The motivation that has allowed me to continue training for a month is "tweet => like", and I am encouraged by the fact that about 5 people a day regularly support me.
I'm aiming to lose 10kg and reduce my body fat percentage by 10%, so if you see my tweets, please "like" them.
自分用メモ。4月~6月までの努力の結果。 pic.twitter.com/gL85BXZSKE

— ホームジムで家トレ! (@ietore_jp) August 15, 2020