Hello. I'm Ietore (@ietore.jp).
If you want to build a home gym for a muscle building in your home, you will have to put joint mats (EVA) on the floor. What I'm concerned about, myself included, is how to handle the joints and edges (side parts) and how much space you need. Here's a quick explanation of this point.
By the way, I have installed Irotech's Muscular Set R140 on joint mats in a rented apartment. You can install the power rack alone with 6 EVA joint mats (about 3,000 yen).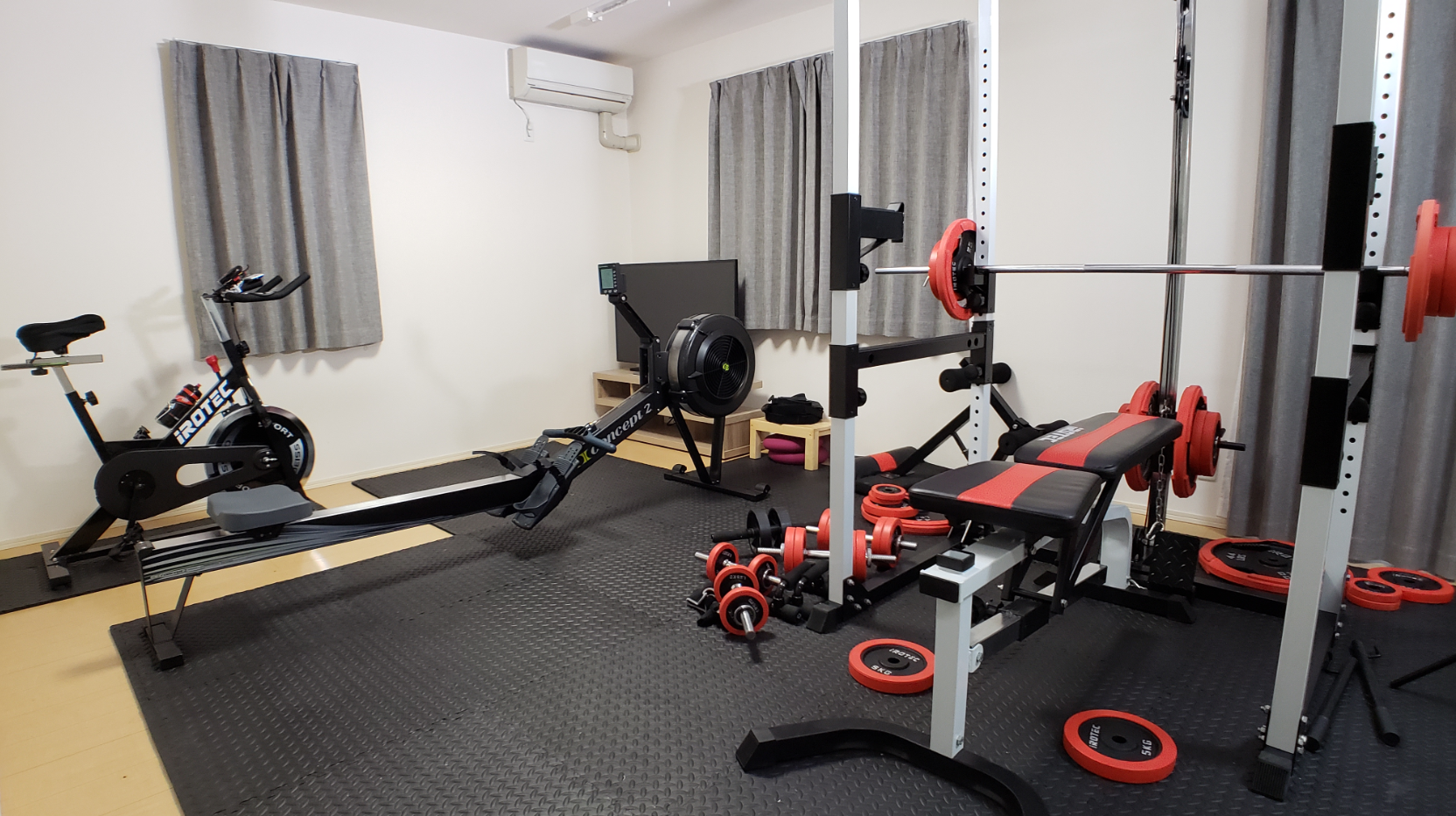 1.The joint mat I bought
As the name implies, these joint mats are used to join together using uneven surfaces.
If you've never purchased a joint mat before, you're probably wondering what to do with the joints and side parts (edges), so I'll use a set of 6 mats as an example.

The set of 6 joint mats is delivered as a single square (60cm square) with one "straight side" and one "corner side" attached. In the photo above, it is the left side. It is delivered as a set of 6 pieces.

2.There are two types of joint mats: straight sides and corner sides.

There are two types of sides of the joint mat: straight sides (both sides are the same shape) and corner sides. The corner side is rounded on the left side (as shown in the photo above).
3.To combine 6 joint mats


If you buy a set of 6 pieces and use up the 6 pieces normally, it will be a "2 x 3" combination. In this case, you will have 2 extra edges (side parts) for the corners.

The width of a set of 6 joint mats (2 x 3) is 126cm x 186cm. One side of the joint mats is 60cm, but the edge treatment members (side parts) are 3cm wide, so if you use the set of 6 mats, the long side is 60cm x 3 sheets + 3cm + 3cm + 3cm = 186cm, and the short side is 60cm x 2 sheets + 3cm + 3cm + 3cm = 126cm, for an area of 2.34m2.
I don't think you'll understand even if it's called 2.34m2, so I'm 181cm tall and I'll try to lie down. As for the size, it is an area of about 1 tatami mat.
4.To combine two joint mats

Now let's discuss the case of using only two joint mats.

If you use 2 pieces, you will need 6 side parts. The breakdown is: 2 for straight lines (2 sides) and 2 for corners (2 sides).
When you combine two 60cm square joint mats, they fit perfectly to put a spin bike on. I have used two of them as well.
However, if you combine the remaining 4 joint mats into a square, you won't have enough material for 2 sides. Therefore, unless you have a special need for only 2 independent pieces of space, I recommend using 6 pieces as shown in the photo below.

Related Post  Aerobic Exercises Cardio Spin Bike (Irotech SS130)
5.If you want to make a 90-degree corner with a joint mat

This may not be the case for those who use six mats, but if you use joint mats in your home gym, depending on the placement of the training equipment and the shape of the room, you'll want to create a right angle, as shown in the photo above. Here's a GIF animation of how to do this.
~ How to make a 90 degree corner with a joint mat (11 seconds) ~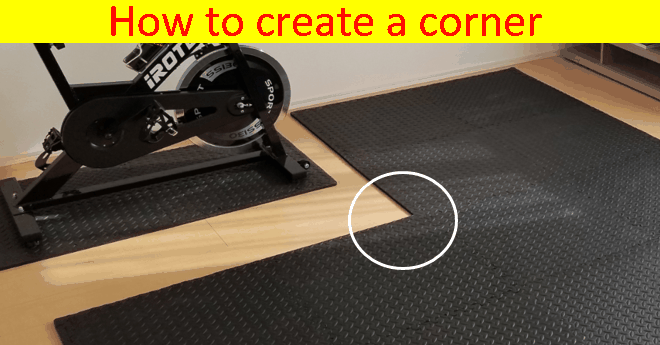 6.Difference between joint mat materials: EVA and rubber

The following is an explanation of the different materials used for joint mats.
1)Joint mat material EVA

The joint mat I purchased is made of EVA.
EVA stands for Ethylene-Vinyl Acetate Ethylene-Vinyl Acetate, a versatile and superior thermoplastic synthetic resin that is more flexible and resilient than polyethylene.
EVA joint mats are harder than yoga mats, but not as hard as rubber mats. So your butt won't hurt when you sit on the EVA mat, and it's more comfortable to lie down on it compared to a wooden floor.
Above all, the mat that I bought is 1.2 cm thick, so it is very comfortable and warm, and the coldness of the floor is not transmitted to you.
By the way, unlike rubber mats, EVA has almost no smell. Personally, I think this "no smell" is the biggest advantage of the EVA mat.
2)Material of the joint mat (rubber)

I haven't used it, but the Irotech joint mat, like the Power Rack, is made of rubber (rubber).
There is a standard of hardness, 65 degrees, which is quite hard, so it is very durable and suitable for use with high weight training machines.
However, since it is made of rubber, it has a reasonable smell.
The manual also states that "the smell will be reduced in a few days if you ventilate the room often or hang it out in the shade. It also says "Ventilate the room frequently or hang it out to dry in the sun.
Judging from this text, it seems to have a reasonable smell.
7.Laying a muscle building joint mat on the floor of a home gym
Now, even though I know that the joint mats are 60cm square, it's hard to get a sense of the size of the joint mats according to the number of pieces, so I assigned numbers to the joint mats for our trey.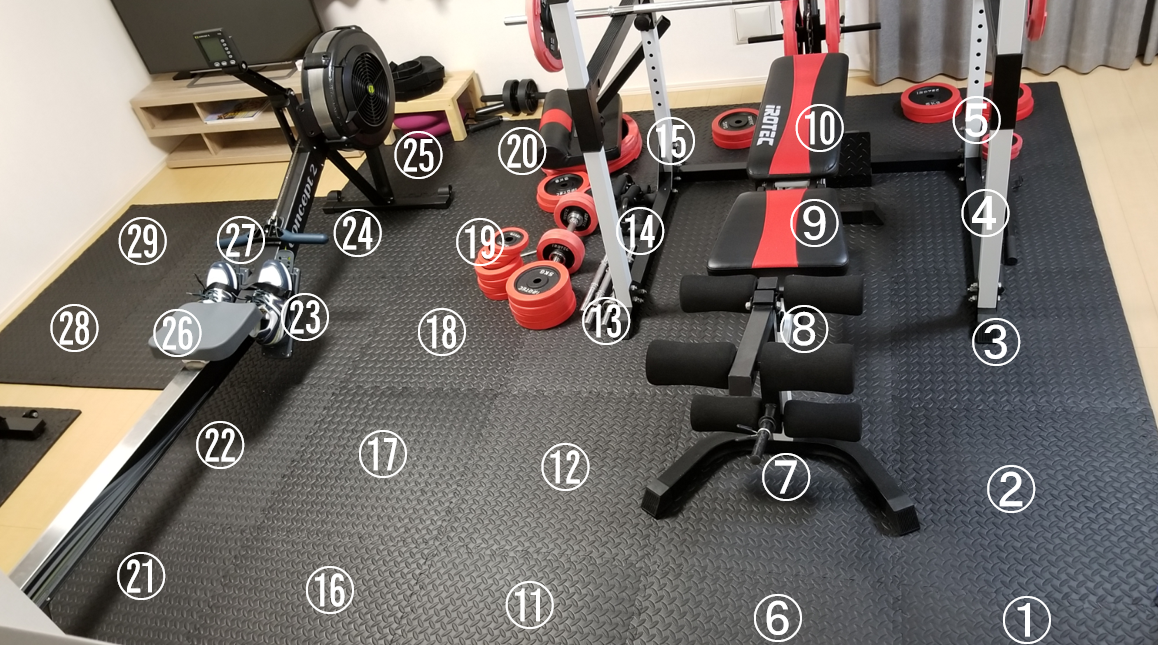 The benches in locations (6) through (10) are moved sideways around (1) through (10) when performing seated rows (rowing exercises) on the power rack (see photo below).The bench needs to be moved when doing seated rows with the Muscular Set R140
I'll also shake out the joint mat numbers on the equipment placement after I get home (added in April 2020), and I'll find that if I have 24 of them, I can put the power rack on and pull out the bench as well.

The joint mats are available in "black" or "gray" colors (I'm using black).
They are priced at 3,980 yen for 6, 5,800 yen for 12, 8,800 yen for 18, and 16,800 yen for 36. Rakuten is sold in sets of 6 (reconfirmed April 2020).
8.EVA Joint Mat Dents in the floor. The result of two years of power racks in a rented apartment.

Yes, I recently returned to Tokyo after three and a half years on my own (added in October 2019).
The floor scratches/dents are always a concern for those who build home gyms in rental properties, but in my case, I had no problems at all. We were in a Daiwa House apartment (room 101).
As you can see in the photo above, there were some dents left on the EVA joint mat from the power rack, but when we removed it, the floor underneath the joint mat was fine, not a single dent in the floor. Good.)

For reference, the floor load of a house is designed and constructed with a design load capacity of 180 kg per square meter (1,800 N/m2). If you are considering installing a power rack that is heavier than this, you will need to use a 20mm thick veneer board to distribute the load, but you will not need to reinforce the floor for normal training purposes.
Related Post  Irotech Muscular Set R140 (Power Rack) is a great choice for your home gym!
9.Home Gym Floor Joint Mat Thickness for Muscle Building

The EMPT EVA joint mat we use is 12mm (1.2 cm) thick.
I have used a yoga mat before and it is thicker and harder than a yoga mat and is suitable for home gyms. Because it is thicker and harder than a yoga mat, the floor doesn't feel cold at all, so it is quite comfortable.
When I put it down on the flooring in my rented apartment (in Yamagata Prefecture), I always ate my meals sitting on the joint mat because the floor didn't feel cold, even in the winter.
Here is an enlarged photo to help you get an idea of the finished joint mat thickness.

My recommendation is a joint mat with EVA material. I use EMPT, but I'll list another popular product for comparison.
10.Joint mats and bench dumbbells are the first step to a home gym for muscle building! Home gyms are the best!

Thank you for staying with me until the end.
Today we're going to be talking about "The best EVA joint mats for home gym floors! I explained how to make a floor for a home gym with joint parts.
It's true that muscles don't betray you. The more you do it, the more effective it will be. Whether you're stretching or working out with dumbbells, just make the floor a joint mat to make it easier to train on. I suggest you buy just 6 of these mats to try them out first.
I've also written about other home gym workouts I've done in my home gym employing the Airotech Power Rack Set (R140) and Spin Bike (SS130).