Hello. I'm Ietore(@ietore.jp).I'm a father of three (40s).
After explaining the layout of the Irotech Muscular Set R140 in a 4.5 tatami mat room and a 6 mat room, I thought about the layout of a small home gym in a 3 tatami mat room with an incline bench and a spin bike.
It's a contradiction in terms of owning a power rack, but the truth is that you can work out a variety of muscle parts with an incline bench and dumbbells.
I'm going to comment on this as a self-conscious reminder that my home power rack is underutilized, but I thought it would be a good idea to start a small home gym without getting hung up on the power rack if you don't have the space.
1.Size 3 tatami mats Layout of home gym

As a home gym owner, I am aware of the three main benefits of having a home gym (no need to travel to the gym, no waiting time for equipment at the gym, and the ability to occupy as much equipment/space as you want to train).
The benefits of having a gym at home are so great that many people, both college students and working adults, would love to have a home gym at home, but the reality is that some people have given up on it because they have less than 4.5 mats of free space.
However, it's too good to be true.
Now that you have the motivation to train your muscles the way they need it most, why not build a home gym, even if it's small?
With a bench and dumbbells, all you need is a bench and dumbbells, and you'll have an awesome body if you're willing to do the rest (a self-imposed comment…).
2.3-mat home gym layout with incline benches and dumbbells

It's hard to get an idea of what it would look like if I just put a bench on it, so I'm going to ask the model (181cm tall) to join me. Hmmm, it looks too small, doesn't it? I'm sorry.
Well, please forgive me for saying that I know the reality.
The incline bench I use is the Muscular Set R140 from Irotech, so the legs are quite solid. There is also a more compact bench for your reference.
In the photo above, I placed the bench in the short side.

In this arrangement, it is important to note that the use of a shorter barbell shaft (160 cm) is quite difficult in a 3 mat room where the short side of the room is only 180 cm.
3.Bench press in 3 mat home gym layout

Dumbbell workouts are great, but you may wish to do one of the Big 3, the bench press, at home.
In that case, there are compact sized racks and benches to consider using the image in the picture above.
4.Cardio at the 3-mat home gym

The theme for this project was a 3 mat home gym, and the only thing I owned that I could put in this space, besides the bench, was a spin bike, so I put it on the edge.
In this photo, I put walls on both sides to help you visualize the room.
It looks a little intimidating in a 3 mat room.
Now, you can set up the spin bike if you have enough space for two joint mats (120cm x 60cm).
It's a good idea to add not only muscle building equipment but also aerobic equipment to the compact space to increase the quality of the space.

5.Start small with a 3-mat home gym.

Today's topic is 'Starting Small with a 3-mat layout for your home gym'. We hope this will help you in your consideration of a home gym.
Please refer to the following article if you are considering building a home gym in a 4.5 mat room or 6 mat room.
Power Rack, a difference in size between 4.5 mats and 6 mats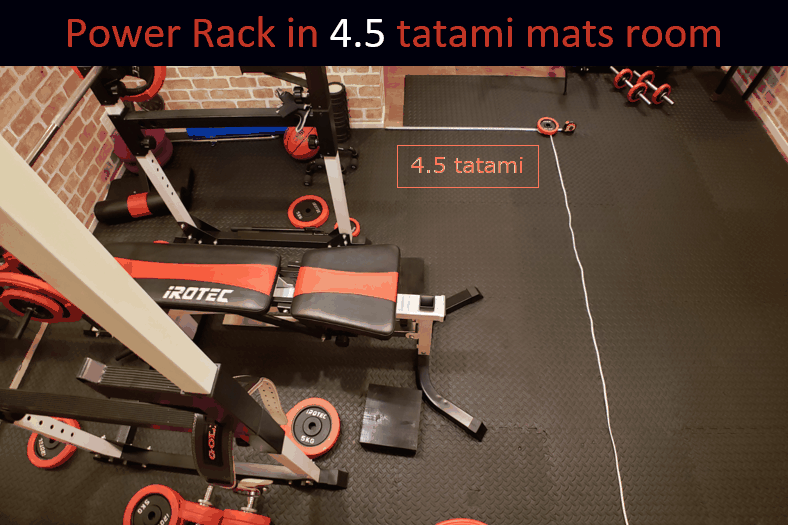 The difference between a 4.5 mat room and a 6 mat room is the difference between a 4.5 mat room and a 4.5 mat room, including the use of an incline bench.
Related post   Home Gym Layout, 4.5-tatami mat and 6-tatami mat installation