Hello. I'm Ietore(@ietore.jp).I'm a father of three (40s).
In the summer of my second year of working alone in Yamagata Prefecture for three and a half years, I suddenly developed a hernia and was hospitalized for four days.
The cause of the hernia was "weak muscles and heavy weight. I'm too heavy. After analyzing it myself, I bought a power rack set (Irotech) for 120,000 yen in the living room of my rented apartment (Daiwa House), which included a power rack, bench, and barbell for me as a muscle training beginner.
As it turns out, you can set up a power rack in a rented apartment with a joint mat on the floor and enjoy muscle training as a so-called home gym without worrying about noise and sweat.
1.Installed a home gym for muscle building in a rental apartment (Daiwa House).

A single man in his 40s is a battling force. I was so busy with field work that I would sit on the sofa and watch TV with a can of beer in my hand when I came back home.
I decided to become a cool guy, so I moved the sofa and the glass table to the bedroom (I don't need that). I moved the sofa and glass table to the bedroom (I don't need that) and moved the power rack to the living room.

Then in the fall, a spin bike was installed in front of the TV as an aerobic exercise system. Finally, we even installed a rowing ergometer (boat). The room has become a muscle training gym. Here's a picture of the room from the opposite side.

The dining table was pushed over to the corner.
The star of the show is just the power rack.
I train in the fridge and next to the kitchen so I can make protein instantly. If you sweat, you can take a quick shower.
2.Load-bearing capacity of apartment (residential) floors
Incidentally, the room was room 101 (first floor), so I figured there was no need to worry about the floor falling out. When I investigated on the Internet, it seems that it is okay to basically use the power rack in the room as long as it does not collect excessive weight in one place.
Legally, the Building Standards Law stipulates that the minimum standard for long-term loading is 180kg/m2. This is not a local number, but a standard value used to calculate the entire room.
For example, if a 6-tatami-mat room is 9.72 m2, the long-term load for the entire room is at least 9.72 m2 x 180 kg = approximately 1,750 kg.
Therefore, even if the total weight of the apparatus exceeds 400 kg, the weight of the room as a whole is sufficient to withstand it. As long as the load is not concentrated in a localized area, there is no cause for concern at first.
3.Living with a home gym for muscle building in your home (condo/apartment)

Well, I love the LDK with the couch removed too. Put a power rack in there and it's a man's room ! It's like.
I don't have an Instagram, but I think it's an "Instagram-worthy room". I was confident that if I showed them my room, I'd be popular with macho guys (though I wouldn't do it).
I was still too busy working and my home gym wasn't very active while I was working alone, but having a home gym in my living room gives me the following workout trifecta!
Life with a home gym in the living room.
In the morning, bench press to tell your pectoral muscles "good morning"
Watch the morning news while riding a spin bike
My Rule Before Going to the Bathroom: "10 Leg Extensions"
When you get home, bench press to tell your pectoral muscles that you're home.
Watching NHK News Watch 9 while pedaling a spin bike
Always "15 minutes of strength training" before taking a bath.
Before going to bed, I do "10 chins" and tell my spine, "I'm sorry I'm always before bed. I'll tell you goodnight.
The advantage of a home gym is that there's zero travel time and zero waiting time.
It's your own personal space, so you can thoroughly push yourself for an hour or two if you're motivated. Bench presses are also great for muscle building because you can do 5 minute intervals without worrying about other people's eyes!
4.You can build a home gym and train your muscles in your rented apartment!

Today I wrote an article called "Life with a Home Gym in a Rental Apartment".
This page explains it in the living room (15 tatami mats), but please refer to the next article to see the difference in size between a 4.5 tatami mat room and a 6 tatami room with a power rack.
Power Rack, a difference in size between 4.5 mats and 6 mats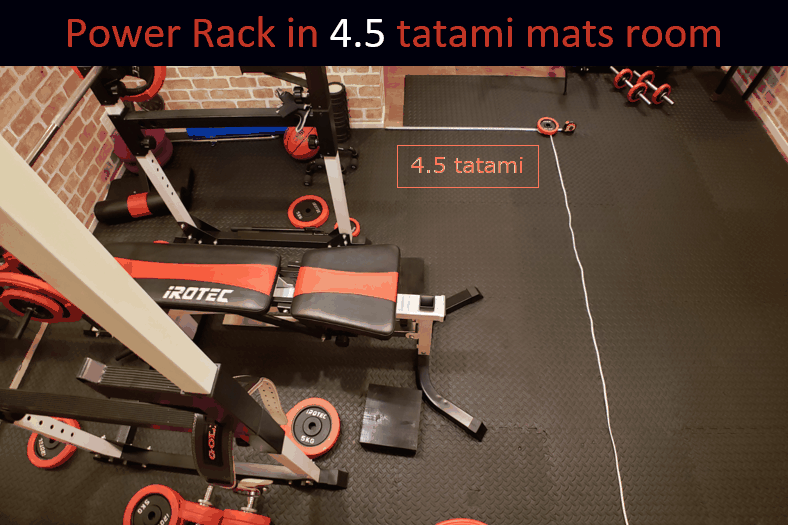 It's the difference between 4.5 mats and 6 mats, and even at 4.5 mats you can install a power rack, including the use of an incline bench!
Related post   Home Gym Layout, 4.5-tatami mat and 6-tatami mat installation
I've written other individual articles on what you can do with the Power Rack Set (R140), the Spin Bike (SS130), and the Home Gym Floor (joint mats) that I hope will help you build a home gym in your rental apartment.